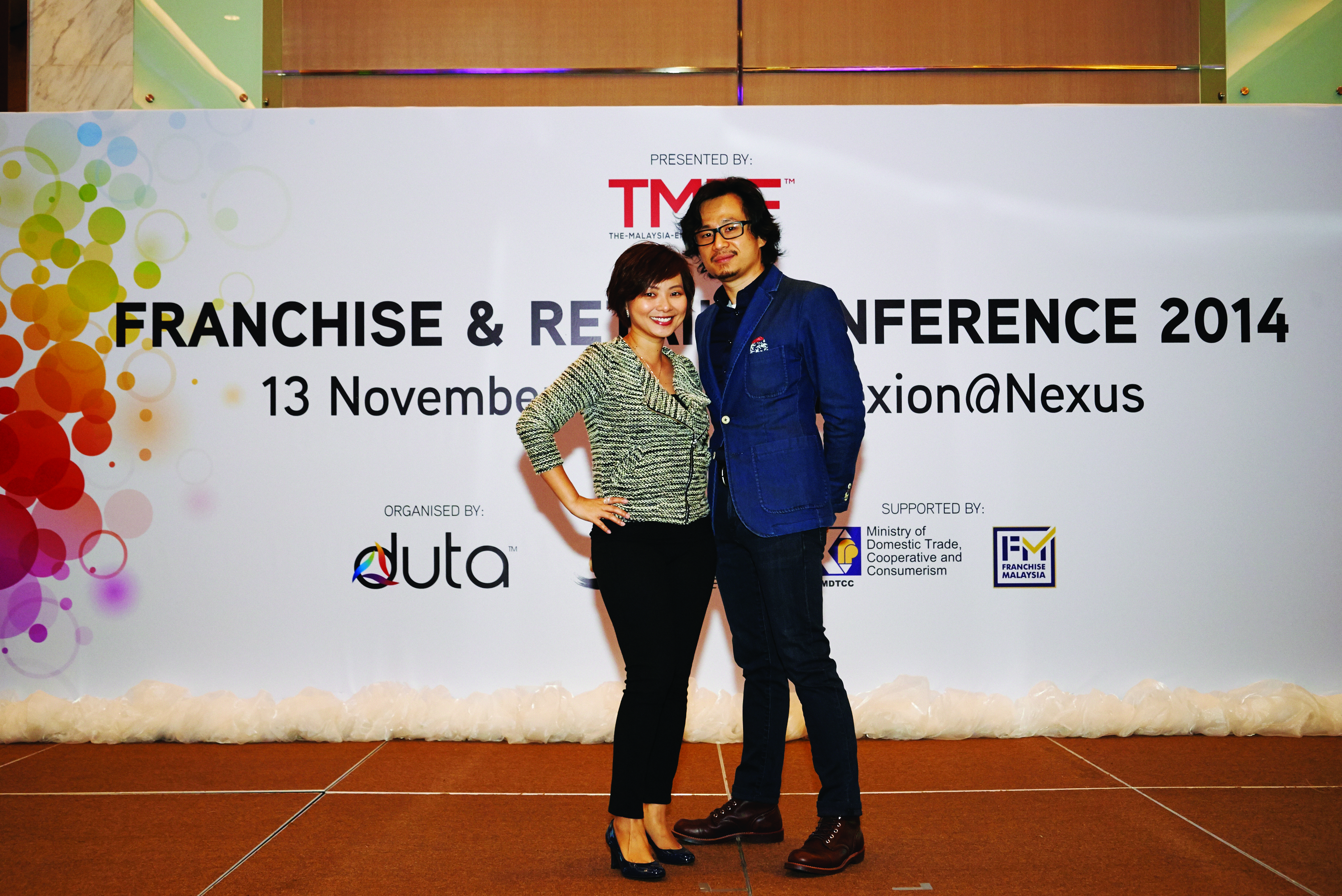 If you were not at Franchise & Retail Conference 2014, you could have missed a lot. Held on Nov 13th at Nexus, Bangsar South, Franchise & Retail Conference 2014 organised by TMEF™ (The Malaysia Entrepreneur Festival) was a hive of activities; with a winning mix of hands-on entrepreneurs, franchise experts, inspiring speakers, insightful roundtable discussions, networking opportunities with over 300 like-minded franchise entrepreneurs coming together.
Franchise & Retail Conference 2014, in collaboration with Smart Franchise Partner, was the brainchild of two directors, Heng and Amy who run Duta Events. Franchise Asia speaks to Heng on what defines the Franchise & Retail Conference 2014.
■ It takes great planning and not to mention, expenses to organise an event such as Franchise & Retail Conference 2014. What inspired both of you to pull off an event of such magnitude?
As an event producer, we have been producing hundreds of events for our clients throughout the country. It is always our dream to have our own signature event and we are glad that we managed to do it with flying colours for Franchise & Retails Conference 2014 (FRC 2014), as one of many events under the TMEF umbrella.
■ What was your objective in organising the inaugural Franchise & Retail Conference 2014? What is your take home message for the attendees?
At TMEF, we always champion entrepreneurship. Thus, for FRC 2014, we are embarking on the concept of entrepreneurship through franchising.
■ Being organized for the first time, the Franchise & Retail Conference 2014 brought together a large crowd. Can you tell us why the surge of interest on franchising among the attendees?
We wanted our participants to be benefited as much as possible through unique speakers, and spot-on content. Hence, we emphasise on the content to the max.
■ What is your most memorable moment of the event?  
We have owner from Juice Works who flew all the way from Australia to share their success story. Not forgetting Johnny Rockets with their wonderful intro and retro dance performance by the Rocketeers. Of course, when the participants appreciated our efforts in organising this event with laud applause.
■ With the success shown by Franchise & Retail Conference 2014, will you be organising a similar event in the near future? When will this be?
Yes, due to the overwhelming response and very encouraging feedback, we are looking at Q1 2015 to have the second edition of the FRC. This will be the build-up to our big Franchise & Retail Carnival targeting to kick off in 2016.
■ You introduced a few key speakers at the event. Are there any specific speakers that you would like to have in your upcoming Franchise & Retail Conference?
2014 we had F&B speakers; 2015 will be on service line, fashion industry, more towards lifestyle angle. Follow our Facebook page(TMEF) to get the latest update.
■ What can the attendees expect in your next Franchise & Retail Conference event? 
The FRC is an ideal location to bring home practical knowledge that is applicable for your day-to-day operation. The next FRC will open up quality networking and the latest business trend shared by prominent speakers and industry expert.
A few selected ones will get the chance to be up-close-personal with the speakers, and to learn first-hand experience from them. FRC is also an ideal platform for business matching, and we'll provide dedicated area for this purpose. Best of all, all these will be done in a cool, fun way in the form of celebration.
To know more about Duta Events and upcoming events organsed by them, visit dutaevents.com.my or visit the Duta Events Facebook at https://www.facebook.com/DutaEvents?fref=ts