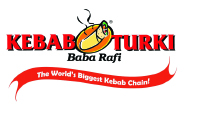 If your experience of eating a kebab was from any roadside stall, then you've not tasted Kebab Turki Baba Rafi yet – the new sensation in town. It's so deliciously different that Kebab Turki Baba Rafi has almost 1,200 outlets in Indonesia alone, with many more opening around the world. What makes Kebab Turki Baba Rafi stand out from the rest? One, it is the great tasting, crispy kebabs. Second, it's the leadership of its young founder, Hendy Setiono, the winner of numerous entrepreneurial awards, who has been spearheading Kebab Turki Baba Rafi for almost a decade now.
Franchise Asia speaks to the Master Franchisee of Kebab Turki Baba Rafi (Malaysia), and Group Chief Executive Officer of Inky Group of Companies, Afandi Oh, who saw it fit and timely for more Malaysians to try out these mouth watering kebabs and the opportunity to become franchisees themselves.
■ Kebab Turki Baba Rafi tagline is the World's Biggest Kebab Chain. How will you best back-up this strong claim?
With Kebab Turki Baba Rafi (KTBR) already having 1,200 outlets so far in Indonesia, 25 outlets in Malaysia, five in Philippines, and more outlets coming up in China, Vietnam, Sri Lanka and Netherlands, we believe KTBR by far is the biggest kebab restaurant in the world. We do have competitors in the form of stand alone kebab operators in Europe and over here, but they are only small operators compared to an established system like KTBR with presence in six different countries, and more to come. I feel, with such strong support and well-established track record, it's not a strong claim to mention that KTBR is the world's biggest kebab chain.
■ KTBR is a fast-food business that is well-known in Indonesia since its opening in 2003, has rapidly expanded to about 1,200 outlets in Indonesia alone. What's the secret behind KBTR for its rapid expansion?
I think the secret is in the kebab itself; The kebab marination is just perfect making it juicy and tasty and at the same time the thickness and the crisp of the tortilla blends well with the meat making it a simple delicious meal. The recipe itself took KTBR many years to perfect and to be improved along the years. KTBR has strong management support, headed by none other than the founder himself, Hendy Setiono, a young dynamic leader.
They are a strong team-centred organisation and work closely together. When I became the Master Franchisee for Malaysia, we had technical glitches initially to bring KTBR to Malaysia as we have a strict Franchise Act to adhere to. In Indonesia, the franchise act is not as stringent as ours but KTBR headquarters was understanding and we worked together as a team to overcome all the obstacles that we faced here in Malaysia in the initial stages. I was very grateful about this as it was something that was important for us to address to. I think this is another aspect that makes KTBR forward looking; being adaptive to the needs and the changes of the environment to move forward rather than staying stagnant. KTBR is constantly innovating, expanding and growing everyday.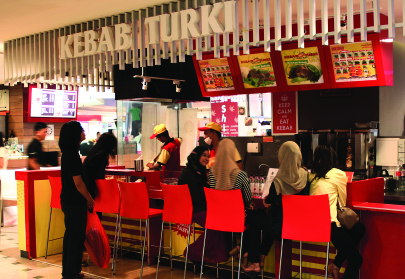 ■ Being an entrepreneur, what attracted you to become the master franchise holder for KTBR in Malaysia?
Fresh from graduating with a degree in Entrepreneurship from HELP University College, I started off in the trading industry. When I wanted to get into the F&B business, I didn't have any experience at all. I know that F&B is a challenging business with a lot of competitors and for someone like me who did not have the experience at that time, it would be very difficult for me and the survival rate would be lower. Hence, the only way for me to forge ahead is through franchising, and becoming a master franchisee where the franchisor is able to transfer knowledge and experience rather than having us start from scratch.
When I looked around, KTBR caught my attention because it was already operating 850 outlets then (last year) in Indonesia alone and kept on expanding. I liked the whole concept; their innovativeness, the people, the settings, the way they operate, the franchisor support, and above all, the spirit of the entrepresing founder, Hendy Setiono who had won so many entrepreneurial awards for his business insight. We're both young. He's in his 30's and I'm in my mid 20's. We understand each other well and we both had the drive to try out new things. I saw a chemistry between us and decided to sign the contract. It was done very quickly as I was very comfortable working with him, signing the contract would not only meant that I had faith in the KTBR brand but it also meant that I had faith and trust in Hendy as a person and as my partner.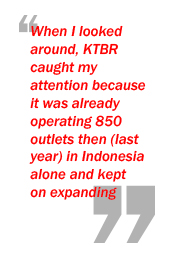 ■ How many Kebab Turki Baba Rafi outlets are there currently and how many are in the pipeline?
Currently we have 25 outlets and we have three more outlets opening in Kelantan in January this year. We also aim to penetrate and concentrate more into expanding into states like Terengganu, Perak, Melaka and Johor this year. We target to reach 60 outlets by end of this year. Our long term goal would be to open 200 outlets within five years. With the response we're getting and with introduction of more menus, I think this is possible.
■ KTBR was founded in 2003 and spearheaded by a young Indonesian entrepreneur, Hendy Setiono who has won numerous awards, including Asia's Best Entrepreneur Under 25 by Business Week, Ernst & Young Entrepreneur of the Year 2009, to name a few. How is it like working with a dynamic person like Setiono and how has this helped your business?
As mentioned earlier, we're both young and we think alike, and understand each other well – that has helped a lot in drawing up new strategies on KTBR's expansion in Malaysia. As young entrepreneurs, we have gone through similar obstacles, we're both hungry for success and want to see the fruits of our labour bearing results fast.
I've learnt a lot from Hendy. After all, he's been with KTBR since day one – that's almost 10 years whereas I've only been in this business for almost a year. There's a wide knowledge and experience gap there. It's extremely important to be guided by someone who is experienced in the field, and I've got that in Hendy. As a person, he's extremely approachable, that's a big bonus point for me. He is also an extremely positive person and optimistic in all his undertakings, and he sees a solution in every difficult situation. That gives you confidence to grow together in the business. In every business there are problems and challenges, therefore it is important for both of us to work together to find solutions and to understand each other's position. This is what I am experiencing with Hendy and I am certainly enjoying it. It makes it easier as I can solve the problems faster and focus more on the business.
■ Can you tell us about the franchise packages available under Kebab Turki Baba Rafi, and what are the business opportunities like for someone interested in KTBR?
What we're offering is a low overhead kind of business. Most of our shops are basically kiosk and mini shoplot concepts starting from RM95,000. The idea behind Kebab Turki franchise is that we want our franchisee to minimise on the overhead and maximise on the sales so that they can get better profit. The size of the kiosk required is dependant upon the location too. A minimum size of 100 sq. ft. is adequate to start the business. The package include everything from SOP, business training, business operating software, construction of the outlet, supply of equipment and raw materials, and everything stated on the contract.
■ What are the types of franchisees that would best fit KTBR to bring it to the next level?
It's okay if a prospective franchisee does not have the experience in operating a business, because we too did not have the experience when we first started. We too were fresh but the experience will come along the way. We even encourage young entrepreneurs to join us.
However, the most important factor would be commitment, and passion for the business. We encourage someone who is serious about the business, and who attends to his or her business constantly. If you don't take KTBR seriously and persevere, then you're only going to spoil the brand name and that is something that we don't want. Most importantly, we would want our franchisees to have the entrepreneurship spirit; to be able to be strong when there are challenges and to have all the entrepreneurship attributes in running the KTBR business.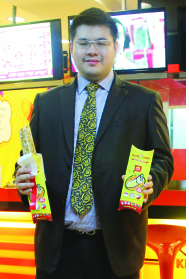 ■ How will someone new to the business be supported?
It's our tradition that on the first day of outlet opening, we give out 300 kebabs for free, and have our mascot greeting customers. Then every month, the management team will be visiting the franchisee's outlet to do quality spot check. We even take photographs to give to the franchisee to assist our report. We even help them in preparing sales and marketing reports, and everything in between to improve their operation, and help grow thier business. We will certainly do our best to support each of our franchisees as it's a teamwork business and the success of KTBR lies between both parties.
■ How soon would it take for an outlet to become profitable?
This is a difficult question to answer as it is very subjective. It all depends on many factors. We can definitely forecast the sales of an outlet based on it's location but when it comes to reality the sales can be higher or even lower than the forecasted sales so it's very hard to answer this. There are outlets that became profitable from the first day itself and there are also outlets that only became profitable after a few months.