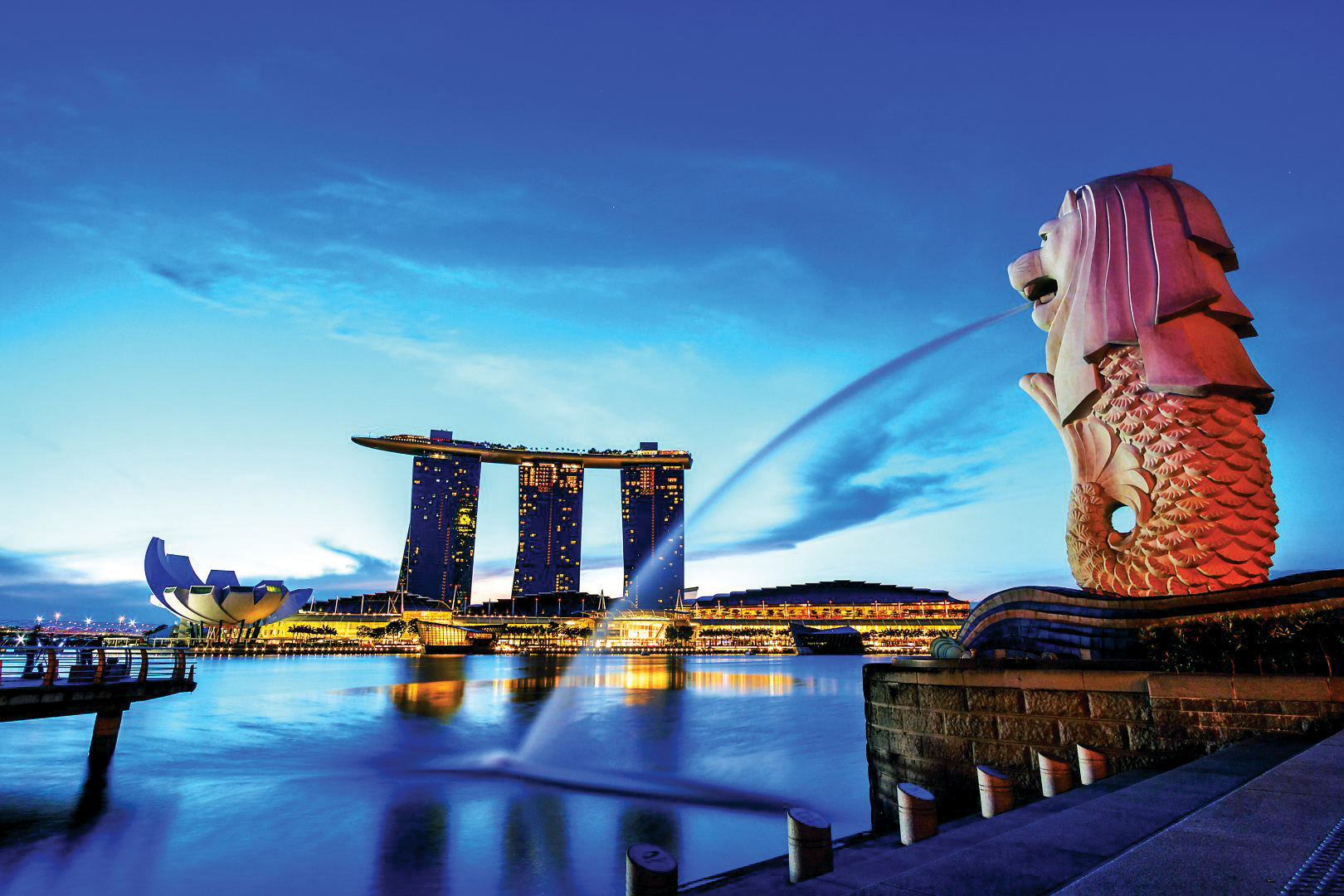 The Singapore Franchise Showcase 2016 (SGFS 2016) was held from the 17th to the 19th of March 2016, at Suntec Singapore Convention and Exhibition Centre, Concourse 1 and 2. This 3-day event allowed exhibitors to promote their business ideas to potential franchisees.
Over these 3 days, the Singapore Franchise Showcase (SGFS) hosted 20 Singapore-based brands from different industries exhibiting their franchise opportunities. Brands exhibiting at the Showcase include those from the Food & Beverage (F&B), education and business services industries.
This inaugural event allowed visitors to have an in-depth understanding of the brands and aimed at providing an interactive and consultative approach between brand owners and visitors. At the same time, SGFS also previewed several new and upcoming brands to the public for the first time.
Show organizer – Purpleclay Consulting – believes that both the brand owners and public audience are keen to explore another franchise-related tradeshow platform to interact, as the current annual franchise show in Singapore organized by the Franchise and Licensing Association (FLA) is insufficient to meet the increasing local demand for franchisor-franchisee exchanges. Mr. Gary Loh, Director of Purpleclay Consulting, "Many clients feedback on the lack of suitable platforms in Singapore to reach out to the public. Over the years, the industry has also grown significantly while the outreach channels remain limited. As such, we see the value and demand for having a second Franchise Show in Singapore to supplement this demand."
Echoing similar sentiments include Mr. Lim Wee Ming of My Little Genius and Mr. James Wee of Coffee:Nowhere, both exhibiting at the inaugural SGFS. "We will like to participate in more similar shows and platforms of such nature to increase our awareness," commented Mr. Lim, who currently operates two centers focusing on whole brain development for children between ages of 6 months to 5 years old in Singapore. "We have always been looking at alternative avenues to sell our franchises, which activity remains muted in Singapore. Through this event and more, we hope to extend our reach in Singapore and the regional countries." added Mr. Wee.
"We hope to make the SGFS an annual show and moving ahead, into other regional countries to better represent Singapore brands in overseas markets to aid their franchising plans. Many franchise shows in overseas markets can be done better and with our experience in this industry, we are confident of doing a good job so as to expand franchise brands regionally in a more effective manner added Mr. Loh.
With the successful completion of this inaugural event, SGFS 2017 will be held from 1-2 April 2017, at Suntec Singapore Convention and Exhibition Centre, Concourse 1 to 4. The inaugural Show in 2016 ended with several exhibitors securing new franchisees, and a noteworthy case being that of My Little Genius who secured their Indonesian master franchisee during the Show.
SGFS 2016, featuring 20 Singapore-based brands, attracted close to 2,000 visitors from different industries and backgrounds. Visitors who visited the exhibition expressed interest in the following business areas:
Food and Beverage (54.42%)
Internet/Online Services (19.16%)
Franchise Consultancy & Branding (18.94%)
Childcare/Enrichment Centres (18.06%)
Beauty/Spa/ Health & Services (15.86%)
Franchise & Retail Technology/Equipment (15.86%)
The majority of the visitors attended the exhibition for the purpose of exploring business opportunities (60.79%). Other purpose includes gathering market information (29.52%) and sourcing for franchise or license opportunities (28.19%). A large bulk (81.04%) of visitors attended SGFS 2016 for their personal interest.
Top 5 Areas of Interest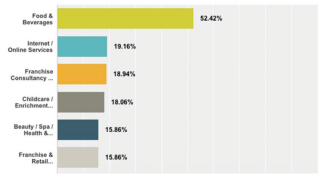 Purpose of Visit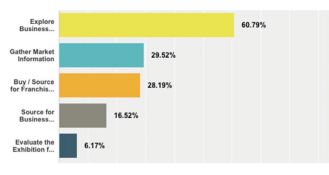 Estimated Budget for Investment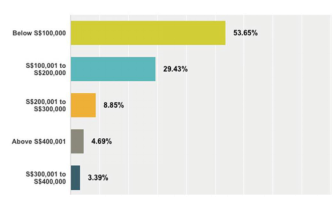 Conclusion
Organized by leading franchise consultant and Show Organizer – PurpleClay Consulting – SGFS 2016 received great support from exhibitors, visitors, sponsors, media partners and campaign solutions provider. It complements existing efforts in Singapore for franchise brand owners to showcase their franchise opportunities to potential franchisees.
With close to 2,000 visitors over a 3-day event, the overwhelming response from the public indicated a strong and keen interest for exposure to business opportunities via franchising in Singapore.
With the inaugural SGFS 2016 successfully completed, we look forward to an even larger turnout during SGFS 2017 to meet the demand of the public and exhibitors on franchising in Singapore.