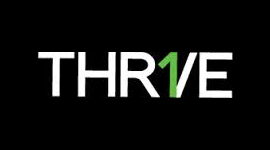 THR1VE is Australia's most successful and innovative healthy fast casual brand, recently winning the coveted 'Best Innovation' award at the national Australia QSR awards. With 10 corporately owned locations and growing, THR1VE offers a uniquely delicious and highly differentiated menu promise — real food, always gluten free, and containing no added sugar.
THR1VE is real food, real fast. A delicious menu of quality produce and proteins, locally and ethically sourced, always gluten free, and no added sugar. High performance nutrition so you look, feel, and perform at your best.
Founded in Sydney, Australia in November 2012 by seasoned global retail executive Josh Sparks, combining his passion for great food and his deep understanding of functional health and nutrition, THR1VE is ideally positioned at the intersection of two very rapidly growing premium consumer categories — fast casual dining and health and wellness.
And customers just love the authenticity and integrity that underpins the brand experience, rewarding the business with best in class economics, loyalty and frequency. Indeed, THR1VE has quickly established itself as the leading brand in the healthy fast casual category, and now enjoys number 1,2 or 3 ranking in the best food courts in Australia.
From conception, THR1VE was developed with a global audience in mind.
Why Eat At THR1VE?
Very simply, because it works!
"I founded THR1VE having experienced first-hand the transformational power of the primal and paleo lifestyle, both for myself, and in friends and family that joined me on the journey. I have eaten, moved and recovered according to ancestral health principles for over 5 years now, and I honestly have never felt better.
I am stronger, faster and fitter than I was 20 years ago, when I was a competitive athlete at university. More importantly, my blood markers of health have all improved dramatically. Don't take it from me though — you have hopefully experienced it yourself, we have countless accounts of inspirational personal transformations on our social media, and for those of you wanting a deeper dive (and I can't encourage it enough) the books we recommend are full of compelling scientific studies and clinical trials."
– Josh Sparks, Founder & CEO
Company Name                 : Thrive Collective Pty Ltd
Address                                : Sydney, Australia
Website                                : Thr1ve Website
Year Established              : 2012
Country of Origin            : Australia
No. of Units Worldwide: 10
Franchise Type                 : Master Franchise Agreement with Option to Sub-Franchise
Franchise Fee                    : Franchise fee varies by development model and by country
Franchise Term                : 10 + 10 Years
For more information please contact Troy Franklin of World Franchise Associates at troy@worldfranchiseassociates.com or at +60192101909.