The Premier Childcare Specialist.
Kinderland Educare Services Pte Ltd, a subsidiary of Crestar Education Group, is a leading provider of quality infant and childcare, bilingual preschool education and premiere student care to children two months to 12 years of age.

Together with its network of franchises spanning across Singapore, Malaysia, Indonesia, the Philippines, Bangladesh and China, Kinderland has more than 50 preschools, childcare and student care centres that provide first-rate education and care to children, as well as efficient support to parents. Since 1978, more than 100,000 children have benefitted from the Kinderland bilingual early education programme.
Successful proprietary programmes
The Kinderland Programme is specially designed by our team of Child Development and Early Childhood Education specialists, together with a panel of international consultants. Our aim is to promote holistic, all-rounded development for children and readiness for schooling.
Up-to-date programmes
Kinderland's proprietary programme materials are constantly reviewed and updated to meet the changing developmental and educational needs of children in today's society.
Regular appraisals
Kinderland children are well-prepared for formal schooling. They are given regular diagnostic testing to keep track of their progress in English, Mathematics and Chinese.
Children's music programme
Age-appropriate programmes taught by professional music teachers using musical keyboard instruments for 'language development' and 'music literacy'. It cultivates self-expression, creativity and musical sensitivity through listening, playing and singing.
KinderFit programme
This programme promotes the acquisition of fundamental movement skills as well as the development of self-confidence, responsible habit, team spirit and a positive attitude towards a healthy lifestyle.
Pre-Nursery to Kindergarten 2
From Nursery to Kindergarten 2, the Kinderland Integrated Curriculum combines concept teaching and concept investigation through didactic experiences. Curriculum areas are consciously interwoven to make learning seamless.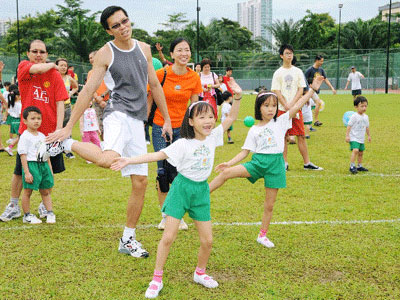 Total child development is nurtured with the support of 5 distinctive classroom learning areas. The integration of themes is reflected in each learning centre thus providing a learning environment integral to the activities and experiences for a given theme.
Franchise info
Company Name: Kinderland Educare Services Pte Ltd
Phone: +65-6342 5600
Website: www.kinderland.com.sg
Year Established: 1978
Country of Origin: Singapore
Contact Person: Angeline Teo
Email Address: Angeline.teo@kinderland.com.sg
Types of Franchise Available: Single/Area/Country
Number of Units: 20
Size of Units: 3,500 – 5,000 sq ft
Franchise Fees: S$70,000
Franchise Term (years): 5 years
Royalty: 6%
Estimated Initial Capital: S$250,000 – S$300,000