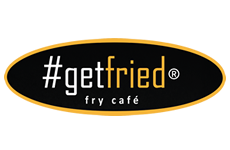 What Is #Getfried?
Gourmet, Quick Serve French Fry Chain, serving French-Canadian inspired Topped Fries, including Poutine, Buffalo Chicken, Fish N Chips, Chili Cheese Fries, Philly Cheese, Texas Cheese and more.
Why #Getfried?
Nowhere else can you create delicious, completely customizable, made-to-order, topped French fries in under 4 minutes.
Sure, McDonalds, Burger King, Arbys, Wendy's and Five Guys all offer great Fries… but not like ours! From four types of fries to five types of meats, and over 20 sauces, seasonings and toppings, no one comes close to the gourmet varieties, prices and service of #getfried. BTW, we almost forgot, mind blowing, home-made milkshakes!
So, as we say to the skeptics, live a little™…and #getfried!
The "Fast Casual" segment is one of the fastest growing segments in Food Retail. This niche Fast Casual market thrives on higher quality, differentiating food made right in front of the customer. The estimated global quick-serve, snack food market size is 374BB, experiencing growth of 3-5% annually – Bloomberg.
Our Purpose
We're successfully creating the world's most captivating, snack food brand, specializing in consistently delicious, made-to-order topped French fries.
Our Formula For Success
The #getfried brand encompasses a thoroughly researched and developed business strategy. It has achieved success from a highly differentiated name & store front design that draws the audience in; an interactive and personable staff that creates a unique customer experience; and a highly differentiated menu that delivers consistently delicious end-product that keeps customers coming back for more.
Key to #getfried's success is additional value that is created by virtue of the #getfried brand name when satisfied customers eagerly seek to share that they just "#gotfried" on their personal social media pages – the single most valuable asset in consumer marketing in the modern advertising age.
Our Menu
#getfried restaurant offers one of the widest varieties of fries & fry toppings in the world through a simple approach: a Specialty Menu of 'go-to' baskets that promotes popular national and local dishes; and a Build-Your-Own Menu that allows complete customization across our five styles of fries and over 25+ sauces, seasonings and toppings.
Competitive Advantage
#getfried is uniquely positioned to achieve market leadership in the emerging fast casual, topped French fry category. We differ from the competition by offering the best tasting – and most diverse – fry offerings; both light and hearty, creative recipes; world-class social media marketing; and a brand & store front that SPEAKS to the target end-user like no other brand is or can. #getfried is simply unmatched in its strategic branding finesse.