Enjoy Life's Sweet Moments.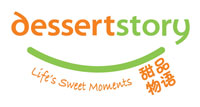 Creating a whole new experience in savouring the sweetness of traditional and innovative desserts, Dessert Story serves healthy and tasty home cooked oriental desserts in a modern way. By bringing before you sweet treats ranging from many all time Singapore favourites to Taiwanese delights like Snow Ice, Dessert Story has been gaining a steady growth and a strong customer base over the years.

The original stores were known as "Anytime Food" and the very first store was started in August 2006 at Hougang to serve great tasting traditional Chinese dessert (or "Tong Shui" as it is known in Cantonese) which to date has built up a large base of loyal customers.
What sets Dessert Story apart from the rest is its very vibrant business concept, centred on delivering supreme quality food and exceptional service. For this Dessert Story has its own factory, from where freshly home-cooked desserts are distributed daily to the stores around. The cooking is done in traditional style using the freshest ingredients, with extra care given to the taste and quality. In addition, Dessert Story has been conducting regular research and development for new products to keep up with customer's demand.
So if you are looking for a warm friendly place where you can get the best home cooked taste dessert that just melts your heart and warms your soul; an oasis where you can be with friends and loved ones, head to the nearest Dessert Story outlet today. There are currently 6 outlets in Singapore to choose from.
Franchise info
Company Name: Anytime Food Pte Ltd
Phone: +65-6749 9233
Website: www.dessertstory.com
Year Established: 2008
Country of Origin: Singapore
Contact Person: Ms. Hsien Naidu
Email: enquiries@astreem.com
Types of Franchise Available: Single Unit(Singapore),
Area/Master Franchise (worldwide)
Number of Units: 6 units
Size of Units: 150 sq. ft. – 240 sq. ft.
Franchise Fees: S$20,000 – Single Unit (Singapore),
Area/Master Franchise – Dependent on territory
Franchise Term (years): 10 years
Royalty: 6% for sales > S$30,000
3% for sales < S$30,000
Marketing/A & P Fund: 3% of turnover
Estimated Initial Capital: S$60,000 (renovation, fixtures & equipment)